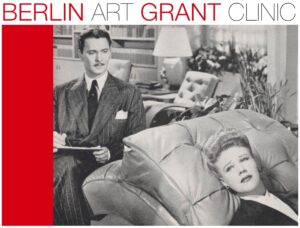 by Ece Pazarbasi / Berlin Art Grant Clinic
14 and 15 MAY 2018/ 16.00-20.00 LOCATION: Hardenberg Str. 33
***Very limited capacity. Please send an email to @ if you want to join and make sure that you will come!***
This is a Grant Writing course that will give you the main perspective and tools to make a competitive grant application in English especially for local and International funding programmes. In this seminar you will be instructed step by step through the narrative structure. You will learn formulating your project description and artist statement as well as receive tips on portfolio making and successful artist resume preparation. Additionally, you will explore the decision process in funding application evaluations and the ways of finding suitable local and International application calls for your project/artwork. This is a hands-on grant writing workshop for artists, artistic projects and applications for residency programmes covering other critical topics like making a realistic time line and an efficient budget.
Working topics include:
Module #1: On Funding Bodies

Understanding Funding Bodies

Decision process in funding application evaluations
List of places to find suitable grant givers

Getting over your writing blockage
Module #2: On Applications and Time, Budget, Tips and Tricks
Structure of funding applications

Creating a project description

Writing your artist statement
Key elements, tips and tricks for a successful application
A focused timeline

Focused and realistic budgeting

Tips and tricks to avoid emergency expenditure
– Working with sample applications
Module #3: Hands-on Application Operation
Requirements for a good proposal

Making yourself a strong applicant
– Enriching and polishing your content
Working on your application for artist residencies and project applications
Peer evaluation
What to bring:
To work on: Your Proposals (Current, planned, or past; funded or unfunded; requests for proposals) or your CV, portfolio, artist statement, motivation letter, etc.
Note-taking: Computer, paper and pens recommended
Course language: English
Berlin Art Grant Clinic is established in 2014 as a support system for artists, curators, NGOs and creative minds from all fields to help them to equip themselves for a successful career in the art scene. Through its seminars, workshops and consultancy practices it fills the gap between the art schools and the professional life, and helps cultural actors to sustain their careers as well as their lives. Established by Ece Pazarbaşı, the clinic coached more than 600 artists, curators, cultural managers and designers and helped so many of them to receive funding. Since 2016, Pazarbaşı is working as a Guest Lecturer at Helsinki Fine Arts Academy and teaching the content of the Clinic. She has also given Grant Writing courses at Weissensee Kunsthochshcule, UdK Berlin, Mainz and Kassel Kunsthochschule as well as at bildungswerk des bbk Berlin, Transart Institute – Plymouth University, Open University, Helsinki Finland, HIAP Artist Residency, Branchentreff – PERFORMING ARTS PROGRAMM DES LAFT BERLIN and PAP – Performing Arts Programme.
Ece Pazarbaşı works and walks on the merged border of curatorial practice and artistic research as her main profession. Among her recent positions are curator of "Cabinet of the Unknown" Museum der Dinge – Berlin (2017), "Muscle Memory" Kunstraum Bethanien/ Kreuzberg (2017), "Memory Plates" Future Festival Nows/ Hamburger Bahnhof (2017); 'Walk Over the City' soundwalk series in Istanbul (2013); Istanbul Coordinator for New Museum – New York's Ideas City (2012): Istanbul; curator of "Silent Shape of Things" at ARTER Istanbul (2012); in Berlin she co-curated "12/12" and "Turkish Art Nice and Simple" exhibitions at Tanas Berlin (2011-2012) together with René Block. She curated 5th Short Video Biennial at P74 Gallery, Ljubljana (2015).
In 2013 she had the privilege to take part in Olafur Eliasson's Institution for Spatial Experiments with a special research grant.