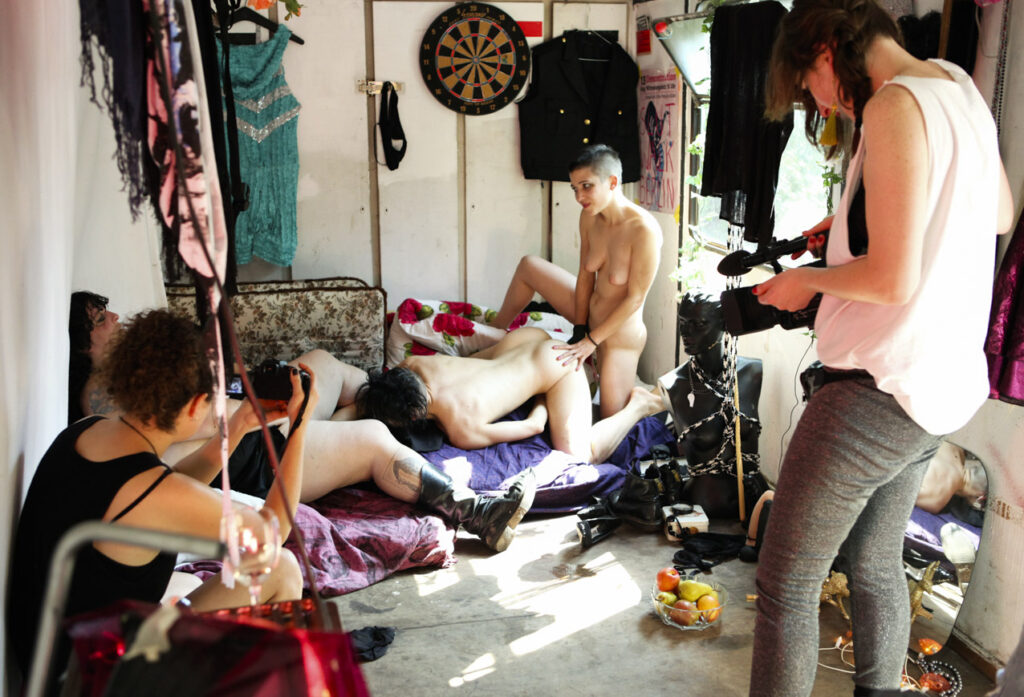 Interflugs is pleased to announce an upcoming workshop from 12-16h on June 3rd and June 4th – "Relationships: From Porn to Art to Somewhere (In)between". Places are limited for only 12 participants, so if you are interested send an email ASAP with your name and few sentences about yourself- titled "From porn to art" to : freieklasse@interflugs.de
The workshop is free of charge.
Description:
Queer- feminist porn filmmaker Marit Östberg and experimental filmmaker and artist Liz Rosenfeld have created an intensive course regarding relationships of sex/sexuality on film and in production. 
We will be dealing with questions stemming from subjects such as sex and empowerment, consent, the sexual politics of bodies on film, while searching for and discussing what feminist and queer methodologies in porn, erotic cinema, and various sexual imagery on film can be. Together with students we will talk about issues such as how to create safe space, the politics of sexual authenticity, sex workers rights, activism, self care and negotiation from the perspective of both filmmaker, director and crew. Together we will engage in readings, discussion and various production exercises exploring what representation of sex on film is and can be. Marit and Liz will also talk about their own experiences of producing sexuality explicit film work, and their own methods of creating this work from queer and feminist political perspectives.
This course is a safe and supportive space for people of all genders, and identifications. Students should be prepared to engage with sexually explicit examples of film and literature.

Marit Bio:
Marit Östberg is a film maker who makes queer feminist porn, music videos and creates queer experimental moving images. In her films she experiments with different ways of portraying power structures and sexuality. She is interested in how relationships and bounds are formed within queer communities through film productions.  Marit continues to screen her wok internationally in museums, galleries and acclaimed film festivals. 
Liz Bio:
Liz Rosenfeld is a Berlin based artist who works in film/video, dance and live performance. She explores questions regarding the sustainability of emotional and political ecologies, past and future histories and the ways in which memory is queered. Liz received an MFA in Performance from the School of the Art Institute of Chicago in 2005, followed by an MA from The Department of Performance Studies at New York University in 2007. Her films are represented by Video Data Bank and LUX Moving Image and have screened in various international museums and venues. In 2017, she was Goethe Institute Artist in Residence at LUX Moving Image. She is part of the Berlin moving image collective NowMomentNow. Her newest expanded experimental cinema work, White Sands Crystal Foxes, will premiere at the Berlin Planetarium in late 2019/2020. She is also in development for her first feature film, FOXES.