[:en]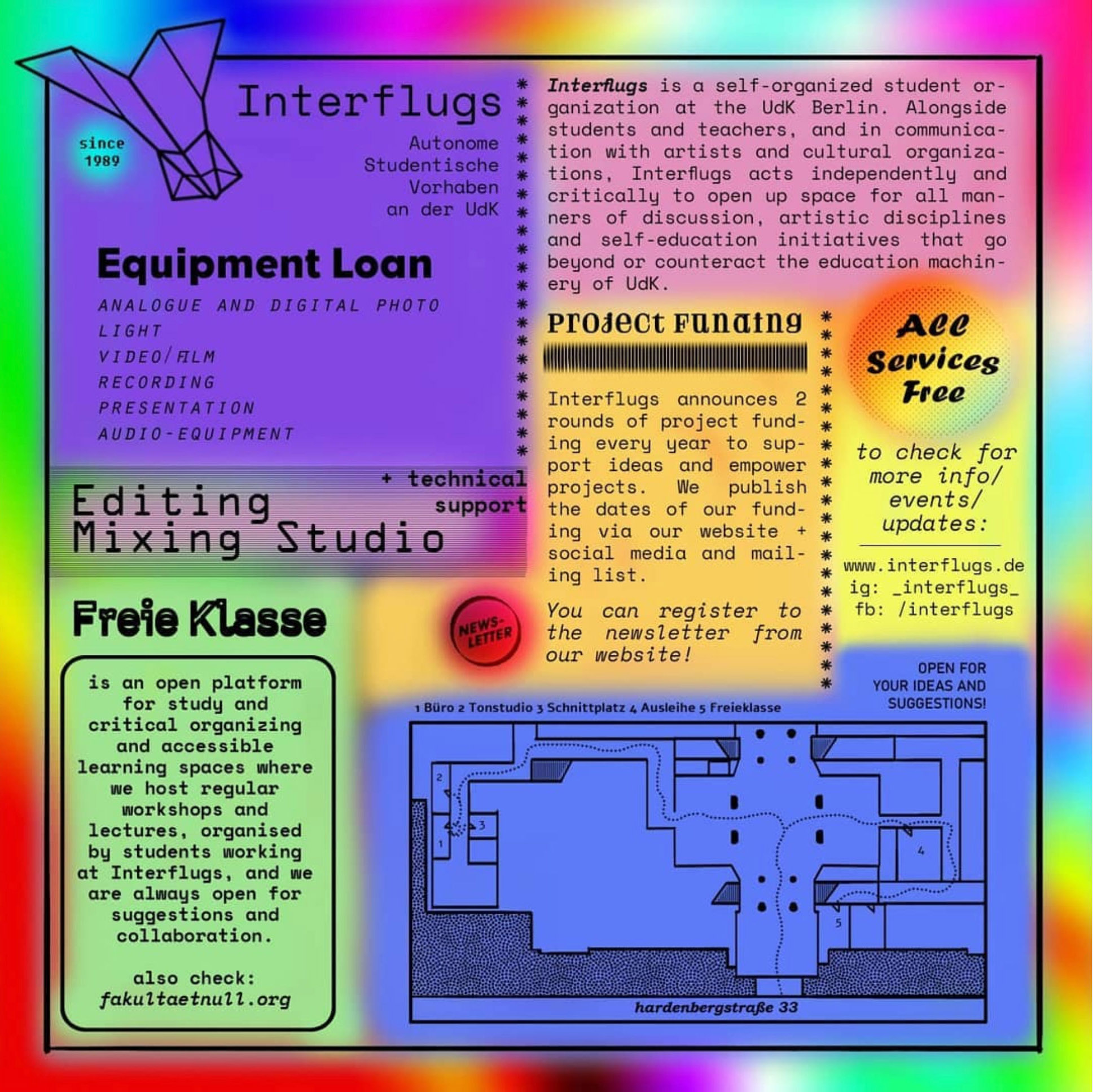 Hello network of friends, students, organizers, artists and trouble-makers!
Interflugs is the rebel faculty organized collectively by students who labor to provide access and resources and re-distribute privileges of the liberal arts institution in ways that make this place, hopefully a little more live-able, disruptive and joyous.
We try to support and engage radical generative modes of being in our labor and create place/s for wildness.
We are not a political group but we will support all forms of critical gatherings and resistance to toxic power. We work collectively in resistance to hierarchies and we try to grow and sustain connections with people both in and out of and "of and not of" the institution.
[:de]

Hallo Netzwerk von Freunden, Studenten, Organisatoren, Künstlern und Unruhestiftern!
Interflugs ist die rebellische Fakultät, die kollektiv von Studenten organisiert wird, die arbeiten, um Zugang und Ressourcen zu schaffen und Privilegien der freien Künste Institution in einer Weise neu zu verteilen, die diesen Ort, hoffentlich ein wenig mehr lebenswert, störend und freudig zu machen. Wir versuchen, radikale generative Seinsweisen in unserer Arbeit zu unterstützen und zu engagieren und Orte für Wildheit zu schaffen.
Wir sind keine politische Gruppe, aber wir werden alle Formen von kritischen Versammlungen und Widerstand gegen toxische Macht unterstützen. Wir arbeiten kollektiv im Widerstand gegen Hierarchien und versuchen, Verbindungen mit Menschen innerhalb und außerhalb der Institution aufzubauen und aufrechtzuerhalten.
[:]